Are you between 15 and 25 years old? Come with us to the Giglio Island!
OPEN CALL!
International Cultural Summer Camp for TEEN 15-25 yr
The festival SEGNI returns again this year for a summer edition on the Giglio Island – promoted by the Municipality of Giglio and with the contribution of Fondazione CR Firenze – June 14 to 26!
SEGNI is looking for teenagers aged 15 to 25 years to be engaged in TEEN Academy 2022: an exclusive program of activities designed specifically for this target to live in the nature of the island together with people of that age from all over Europe!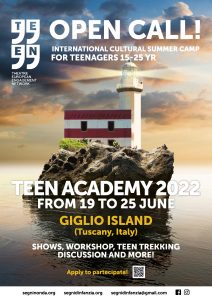 The TEEN Academy is a Cultural Summer Camp that takes place over 7 days, from June 19 to 25, and includes viewing of performances, participation in workshops and conversations in the format of TEEN Trekking discussion: dialogues made in the time of a walk in the company of artists and cultural operators.
Don't miss this opportunity if you enjoy meeting and exchanging, if you are curious about meeting peers from other countries and travelling to make new experiences, if you are passionate about theatre, art, music and the outdoors, about exploring and walking, with a desire to discover and be part of the festival world!
How to participate?
Write a motivational letter (maximum 15 lines) by 16 May, telling what you expect from the TEEN Academy experience and why you want to participate.
This will be followed by an online or live training meeting.
Submit your application at segnidinfanzia@gmail.com with:
– Name, surname
– Date of Birth
– Place of residence
– Telephone number and email
– Motivational letter
Participation in the TEEN Academy is subject to a registration fee of 100 euros (subject to possible changes to the registration fee in accordance with special needs indicated by the participants). The organisation will cover the costs of food, accommodation and the ferry for the duration of the week.
Click HERE to watch the video clip of the 2021 edition!
The TEEN Academy is one of the actions of the project "ForesTEEN", supported by the Department of Youth Policies of the Municipality of Mantova, an opportunity to experience what it means to be part of the TEEN Community of SEGNI and to choose to continue to be part of it, having the opportunity to participate in other activities that will continue throughout the year in the territory of Mantova, nationally and Europe.